January 30th, 2010
Comments Off

on 4G (Long Term Evolution LTE) Ready Antenna / RF Components
DragonTECH is
Sounds Long Term, LTE is really round the corner, there are already existing comemrcial networks launched and surely there will be more with new markets for high speed data driving multi-media applications like You Tube and Facebook. Let's take a look at the challenges posted to antenna systems.
New Frequency Bands for 4G
LTE supports flexible carrier bandwidths from 1.4MHz up to 20MHz, in many spectrum bands and for both FDD and TDD.
This means an operator can introduce LTE in both new and existing bands, for example, 2.6GHz (Band 7), Advanced Wireless Service (AWS) (Band 4), or 700MHz bands.
Unlike other earlier cellular systems, LTE will be quickly deployed on multiple bands. Click here to see Verizon's Band.
Todate, this is a broad summary (click to enlarge):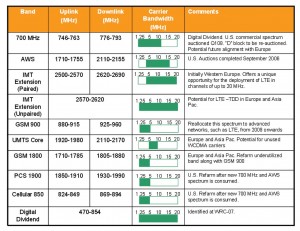 Is my DAS really 'Future-proof' for 4G?
This post a challenge to the existing Distributred Antenna systems (DAS) which 'flexibly' supports 800 – 2500 MHz. This was good enough at the 2G times, so that DAS deployed back then are 'future-proof' for 3G systems.
It worked well until now.
4G will now definitely spread from 700 to 2700 MHz, rendering the existing DAS system vulnerable should the local regulator mandates the use of 700 or 2600MHz.
Challenges for RAN (Radio Access Network)
For the Network Operators, your mobile subscribers are adopting 3G services but the traditional 2G subscriber base keeps growing too. You face the need to expand both network layers for more capacity and coverage to improve both the quality of service and availability. And with the onset of LTE, you must further develop your networks and rationalize your investments to deliver profitable services.
All these calls for a Converged RAN that can support from 700MHz to 2700MHz.
DragonTECH has a solution
As an industry leader, DragonTECH has developed a series of  RF components and antenna to resolve this issue. These can be used for any DAS build for 2G / 3G now and the customer is ensured a smooth upgrade path to 4G in the very near future.