December 29th, 2011
Comments Off

on Invisible LTE Antenna for ALL frequencies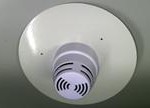 Our Invisible Antenna  has recently been upgraded to cover all 4G/LTE frequencies, making it a truly global choice for all LTE systems.
Invisible LTE Antenna (datasheet)
Why is it Invisible ?
Our invisible antenna is one of our best selling items. This is mounted from above the false ceiling and only the 'smoke detector' shape is seen by the users. Making the antenna invisible
How does it help Data service for 3G / 4G?
This actually allows you to have the dipole below the ceiling for maximum Data performance, while it is so low profile that does not make users think that there is an antenna. Since the dipole is below ceiling, it will not be blocked by builder materials. These materials are often made of metal which reduces available radio signal strength and caused reflection and difraction. By using the Invisible Antenna, the maximum Signal to Noise Ratio and Signal Strength are acieved to allow best  Voice Quality and Data Throughput.
Why is the Invisible Antenna best for 3G / 4G?
We have now upgraded this Invisible Antenna to support 700 MHz to 6000 MHz, covering the 4G / LTE frequencies. By using this antenna, the building is future proof. If an upgrade is required you are ensured that the antenna can continue be used to support the next technology.
More details here (more LTE antenna / parts)