Demonstration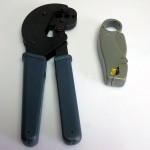 Connectors are sometimes tricky. There are so many numerous of them and to ensure a proper connection is not alwasy as easy as one might think. As an example there are so many variants of the RG cables (CATV cables), some have a diameter slightly bigger than the others. So if you buy from different sources, chances are that either the connectors do not fit, or the tools cannot be used.
To avoid that problem we normally send cables with our connectors to ensure all is ok and of course they work with our tools.
But that's not the end of the story. We believe that our services is where we excel, apart from good quality, just in time, attentive we have made these videos to re-inforce the tradditional step by step guides.